Domestic Shipping & Processing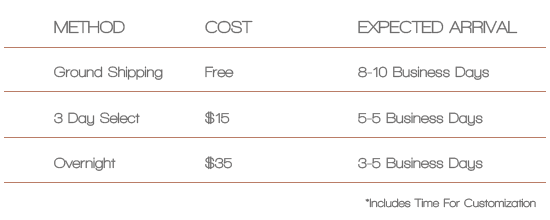 International Shipping & Processing
Usps first class international (2-3 weeks, no tracking)- $25.00 for jewelry shipments
Usps priority international (6-10 business days, tracking is limited)- $39.00 for jewelry shipments
Usps priority express (3-5 business days, tracking is limited)- $56.00 for jewelry shipments
Fed ex international (recommended, tracking is guaranteed)- $73 for all shipments
*For any international usps shipments:  many packages take time passing through customs, especially jewelry, so the dates provided above are an estimate. Once a package hits customs, we are no longer able to track it from our end, so please contact your local post office with the tracking number to see if they can provide you with additional information.
All international customers are responsible for the duties and taxes on their shipment. We value all our packages at the amount you paid for them to insure them properly, so we have no control over the amount of duties and taxes that get charged on each shipment.
In any account you have given us the wrong address, we are not liable for the contents of the package and are not obligated to give you a refund. In any account that a package is lost or stolen and you have not paid for shipping with insurance, we are not liable for the contents of the package and are not obligated to give you a refund.
Easy Returns & Exchanges
Returns are accepted on all products. All returns must be postmarked within thirty (30) days of your receipt of the ordered merchandise.  Item(s) must be in original unused condition, and all tags, cards, boxes and/or pouches must be included with your return
To make a return, please email support@livewellaware.Com. To request an ra number and return shipping label. Please include your name, order number, and the items you'd like to return in the email. We will get back to you within 24-48 hours and provide return shipping instructions as well. We do not cover the cost of returns, so a $10 shipping fee will be deducted from your refund.
Your order will be refunded within 1 to 2 days of arriving at our office. Please note that we cannot process refunds more than 30 days after the date of purchase (not the date of shipment.
Any unauthorized returns (including returns without a return form), undelivered packages, or returns postmarked after thirty (30) days of receipt by the customer, will be refused and the item(s) returned to sender.
Shipping and handling charges are non-refundable, and the customer is responsible for return shipping costs (unless the item had arrived damaged).
Refunds will be credited back to your original method of payment.
Although we check all merchandise for defects and damage prior to shipment, it is the responsibility of you the buyer to check the product promptly upon its arrival to make sure it is free of any defects. Damaged goods may be returned to well aware, with all such returns subject to these terms of use. Goods damaged due to buyers' negligence will not be accepted for refund.
Taxes/duties/refused shipments (for international shipments):
You are responsible for any additional taxes and duties. We cannot pre-determine customs fees and well aware is not responsible for any fees charged by customs. If you decide to refuse any shipments from well aware, you are responsible for the original shipping charges to you, any duties, taxes and/or customs charges that are incurred on the package (on both the original and return shipments), and the cost of returning the package to well aware. This amount will be subtracted from your merchandise refund. Returns must be sent via u.S. Postal service, fedex, or ups. We recommend purchasing insurance since we cannot be responsible for lost/damaged packages. Be sure to package returns well, as items damaged from improper packaging will not be accepted.
Once your package has been received at well aware your refund or store credit will be processed within five (5) business days of receipt.  Refunds will be credited back to your original method of payment.  If you wish to make an exchange, please email support@livewellaware.Com as you may have to place a new separate order (unless you are exchanging an item that has been damaged).
Although we check all merchandise for defects and damage prior to shipment, it is the responsibility of you the buyer to check the product promptly upon its arrival to make sure it is free of any defects. Damaged goods may be returned to well aware, with all such returns subject to these terms of use. Goods damaged due to buyers' negligence will not be accepted for refund.
Well aware is not liable for any damages in the event that merchandise you receive from us is not of the type advertised. If you receive such merchandise, you may return it so long as you comply with all of the return policies of well aware.
Certain provisions regarding purchases:
When you place an order for an item displayed on the site, you are making to well aware an offer of purchase. If well aware accepts that offer, we will supply the goods where possible, but will not be obligated to do so. If an item you order is not available, or the price has changed, we will attempt to contact you to let you know of the unavailability or the price changes, as applicable. If we are unable to contact you, we will cancel the order. We will not substitute any item without your permission first.
We attempt to promptly ship products ordered. Generally, orders placed monday-friday before 1 pm pst will begin processing that day, excluding holidays, and will ship within 3-5 days, in all cases pending availability and credit verification. Please allow additional time for shipments to apo/fpo addresses, as well as international orders. We do not provide weekend delivery for any method of shipping.  Please note that these processing and shipping provisions are only general guidelines, and well aware cannot ensure that the time frames noted will be met.